AN EXPERIENCE YOU'LL NEVER FORGET
Journey to one of the most remarkable locations on Earth to experience the annual narwhal migration into the Canadian Arctic.
Travel over the Arctic Cordillera Range and arrive in the stunning hamlet of Pond Inlet, Nunavut. This community at the northern end of Baffin Island is the gateway to Eclipse Sound's renowned floe edge.
Wake up in your heated Arctic tent to views of Sirmilik National Park's mountain peaks and glaciers. After a delicious breakfast travel to your floe edge location on traditional Inuit qamutik sleds that offer fantastic landscape photo opportunities through the longer days of the Midnight Sun.
Once you're at the floe edge, weather and conditions permitted, you will spend the day enjoying wildlife viewing opportunities as narwhal migrate past or socialize in pods. Belugas are known to show up to socialize and make terrific photos. You'll also have the chance to explore the land in your qamutiks looking for polar bear to snap great photos of the Arctic's most iconic animal. Watch as migrating birds return to the Arctic to prepare for nesting.
ITINERARY

➤ DAY 1 | ARRIVE IN POND INLET, NUNAVUT

When arriving in Iqaluit, you will be required to leave the secured area to board your onward flight.

Upon landing in Pond Inlet, you will be welcomed by our local Arctic Kingdom representative and transferred to a local hotel. Meet your Expedition Leader for a trip briefing and hot dinner. Overnight in hotel.

MEALS INCLUDED: Breakfast and snack (in-flight), Dinner

➤ DAYS 2 | YOUR ADVENTURE BEGINS

After breakfast, an orientation from Parks Canada, meet your guides on the beach in preparation for your departure to our camp on Eclipse Sound. Travelling to our Arctic Safari Camp by qamutik (a traditional Inuit wooden sled with suspension or foam padded seats pulled behind a snowmobile), you will experience the exhilaration of gliding across the ice. The journey's time will vary depending on ice conditions but will include tea and coffee stops. Our Arctic Safari Camp will be set up a few kilometres back from the floe edge.

MEALS INCLUDED: Breakfast, Lunch, Dinner

➤ DAYS 3-6 | IN CAMP

During the next few days, our excursions will include trips out to the floe edge to look for wildlife. Enjoy the mild spring weather and engage in a variety of activities at the floe edge. Snorkel and kayak amongst sea ice when conditions permit. One of the greatest highlights for many guests on this safari is the opportunity to observe a variety of Arctic wildlife in their natural habitat. Migratory birds are also in abundance, and with the stillness of the Arctic, you are able to hear the songs of the birds before you even see them.

Ice conditions permitting, you may also visit the Bylot Island Migratory Bird Sanctuary, where more than 200,000 birds choose to nest each year. For birders, the earlier departures are best for this activity.

MEALS INCLUDED: Breakfast, Lunch, Dinner

➤ DAY 7 | DEPART FROM CAMP

After breakfast, depart camp by qamutik and snowmobile to Pond Inlet. Enjoy your final night in Pond Inlet with a special Inuit cultural presentation. Overnight in hotel.

MEALS INCLUDED: Breakfast, Lunch, Dinner

➤ DAY 8 | DEPART FOR HOME

Depart for Ottawa with the spirit of the Arctic, and a full album of memories and friendships.

MEALS INCLUDED: Breakfast, Lunch, Dinner (in-flight)
Location
72.7001° N, 77.9585° W
Just south of the Northwest Passage you will find the beautiful hamlet of Pond Inlet, also called Mittimatalik in Inuktitut means, "where Mittima is buried". Mittima was an ancient person thought to be buried here. The name Mittimatalik also refers to "the landing place," which is a rock that seagulls would rest on and fish from, demonstrating the amount of wildlife here with an interesting history.
Nestled into the Arctic Cordillera Range, this community is surrounded by scenic fiords and glaciers facing out to Bylot Island, a giant migratory bird sanctuary that welcomes thousands of returning birds each spring.
Eclipse Sound is the body of water separating Bylot Island from Baffin Island. This waterway will freeze through winter, and at the eastern edge, where the frozen channel turns into the expansive Baffin Bay, the sea-ice turns into open water that Arctic whales migrate past looking for openings in the channel to enter. What this means is that elusive Arctic whales swim right past the floe edge offering unmatched photography opportunities.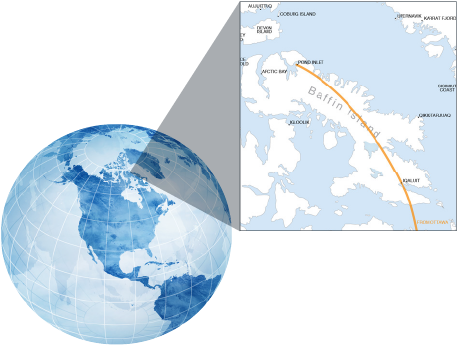 WHY ARE THERE SO MANY NARWHAL AROUND POND INLET?
Roughly 75% of the world's narwhal population spend the winter in the open water between Baffin Island and Greenland. As spring arrives, the narwhal will migrate north along Baffin Island to Lancaster Sound, where they will turn into the Canadian Arctic islands. They probe and search for open channels where they can reach their summer feeding territories where Arctic char are in abundance. This migratory path takes you right past Eclipse Sound offering incredible sightings.
ACCOMMODATION
PREMIUM SAFARI CAMP ON LAND
While it may appear like a basic tented camp from the outside, our Tented Safari Camp continually surprises and exceeds our guest's expectations with its roomy and warm interior. The sleep tents are large and spacious with a large entrance vestibule, ample standing room and space for all your camera gear and luggage.
The 'Tented Safari Camp' will be set on the sea ice. This allows for an authentic Arctic experience in this remote location, which provides the best opportunity for rare polar bear sightings.
The sleep tents feature steep side walls, 14 m2 (152 ft2) of livable space and a ceiling height of more than 2 m (7'2"). There is more than enough room to ensure two guests and all their gear stays warm and dry. The large entrance vestibule creates an additional 4 m2 (46 ft2) of storage space. All sleep tents contain two twin metal frame beds with mattresses, duvets, comforters and full-size pillows.
The insulated double walls of the tent act as a greenhouse, keeping you warm on the coldest nights. A heater is also provided to ensure you have a warm, comfortable accommodation.
DINING TENT

We also strive to exceed your expectatons with a diverse menu of delicious food. You will enjoy meals, snacks and desserts prepared by our executve chef in the central dining tent. This heated, open area tent has a family-style dining table and breakfast bar with fresh cofee and hot tea.

BATHROOM FACILITIES

Bathrooms are shared. The heated bathroom tent includes waterless toilets and on-demand hot water sinks and showers. All bathroom toiletries such as soap, shampoo and hand cream are provided.

ELECTRONICS

Your camp is powered by generators that will allow you to charge your electronics before bed. Generators are turned of late at night and will be turned on again early the next morning. There is ample tme to charge any electronics.
SPIRIT OF ADVENTURE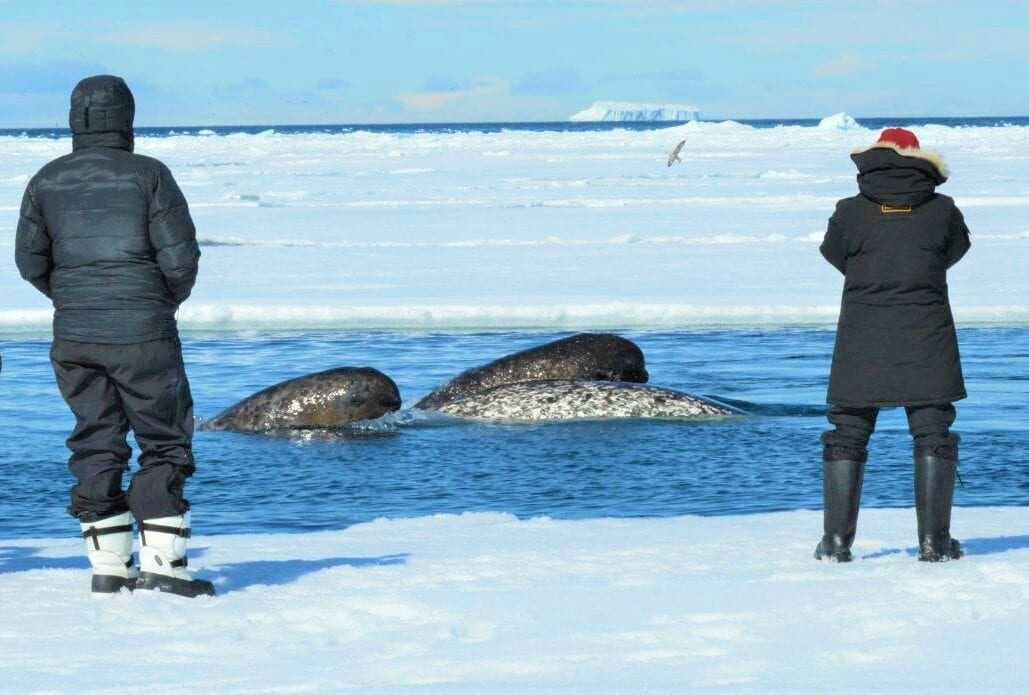 WHAT TO EXPECT
Once you have enjoyed breakfast and everyone is organised, you will head out for the day riding in a qamutik pulled by a snowmobile. Be prepared to spend large portions of the day at the floe edge location because we choose ideal locations for wildlife, but they appear on their own agenda. There will be chances to stretch, photograph wildlife and landscapes, with a snack and hot beverages breaks,
but expect to spend 8-10 hours away from camp daily.
You will spend most of the day on the land, returning to camp for your warm gourmet dinner. Make sure to take extra batteries, gear to protect your camera and clothing layers to stay warm.
PATIENCE IS REWARDED
Although this is one of the most remarkable places in the world to see narwhal and polar bear, this is still nature, and there is a risk that weather or other natural factors at play may prevent us from seeing wildlife on some days during the week. While sightings are not guaranteed, the stunning environment and the anticipation of seeing something rarely witnessed makes every moment worthwhile.
WHAT YOU MAY SEE

NARWHAL

POLAR BEAR

BOWHEAD WHALE

BELUGA

MIGRATORY BIRDS

MIDNIGHT SUN
Please note that we do not guarantee wildlife viewing.
RESPECT
It is important to remember that we are visitors in this region and must be respectful of the people, environment and cultures. Be aware that indigenous people have the right to and do continue traditional hunting practices, and we ask that you adhere to our relationship of mutual trust and respect for their traditional way of life. Please no photos of these activities as it may misconstrue or improperly portray their customs.
We ask that you always ask permission before taking photos of people. When visiting communities, please ask permission before taking photos of local people and especially ask parents permission before photos of any children.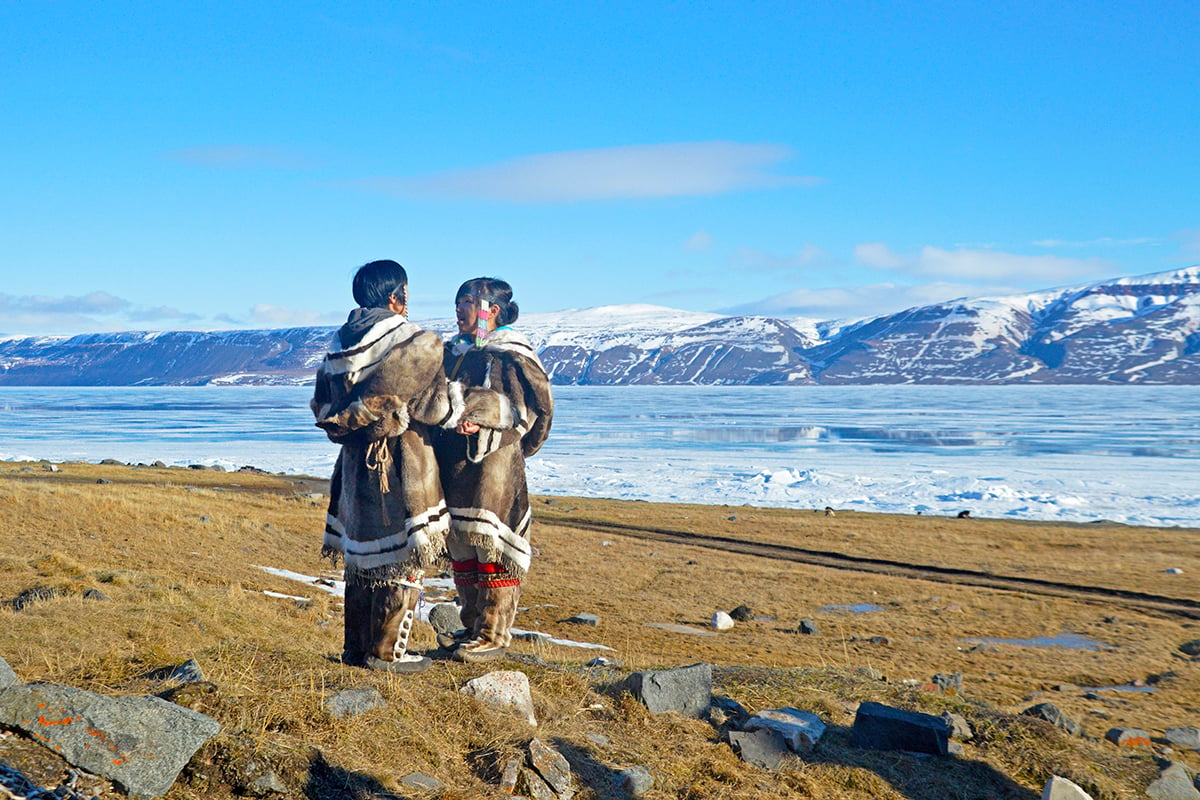 Following the Wildlife Policy of Nunavut, and for the safety of our guests and wildlife, we ensure all participants remain at a minimum distance of 100 meters (approx. 300 feet from wildlife in the wild. Arctic Kingdom Expeditions Leaders and Inuit guides are trained, and experience in polar bear safety and de-escalation.
Groups will not approach animals beyond the minimum distance, but wildlife may approach participants under safe conditions and monitored circumstances.
For more information on the Wildlife Policy of the Territory of Nunavut please visit:
https://www.canlii.org/en/nu/laws/stat/snu-2003-c-26/latest/snu-2003-c-26.html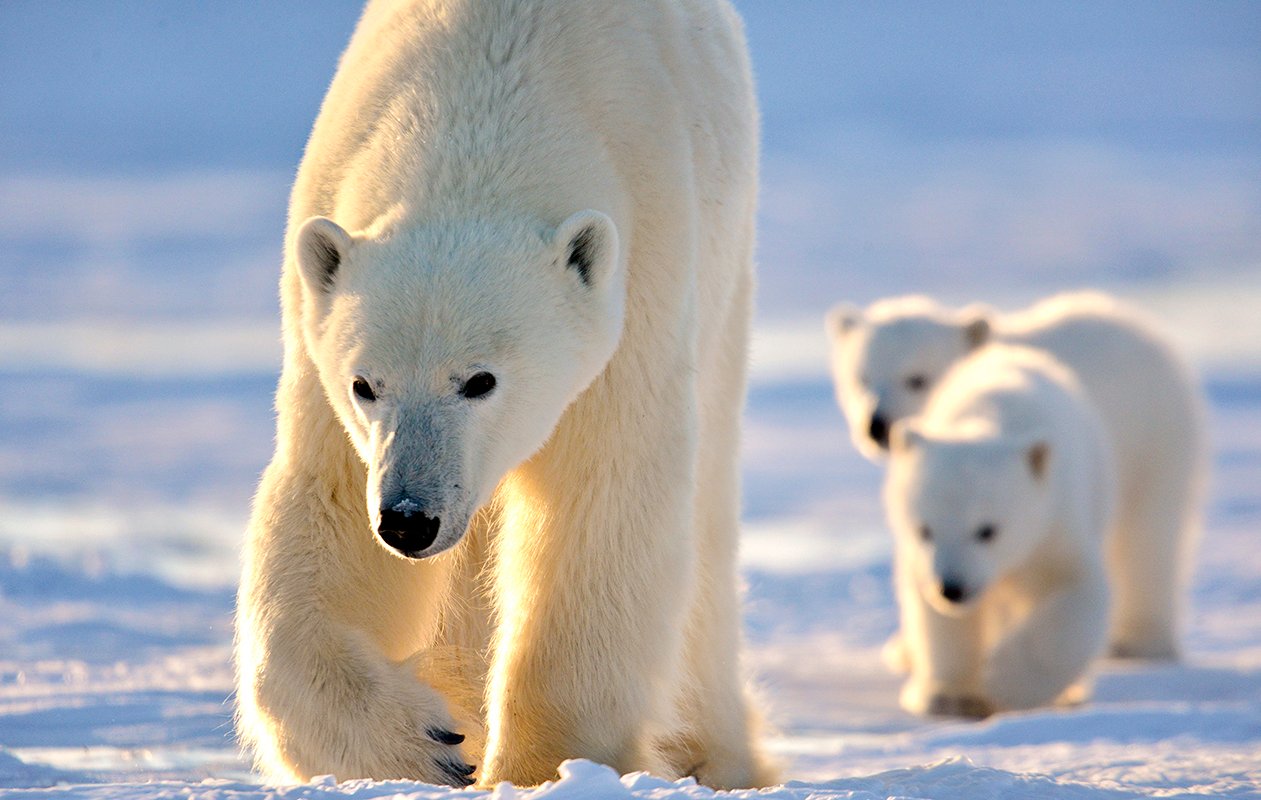 Arctic Kingdom seeks to ensure that all of our trips contribute to the economy of the region. Tourism and film production can be a real boon to northern communities, providing income, positive cultural exchanges, and bring focus to the natural environment.
We have a 'total approach' to responsible tourism. Everything, from the way we plan and operate our trips to the practices of Arctic Kingdom as a company, is geared toward making a positive impact on the regions we visit. Arctic Kingdom trips are designed to allow a high degree of economic benefit to the communities;
we hire local guides and local drivers, buy local produce (whenever possible), eat local food, and use local services, thus ensuring that as much money as possible is retained within the local economy and the host communities. We are continually reassessing our trips, trying at all times to ensure that they are socially, economically, and environmentally sound.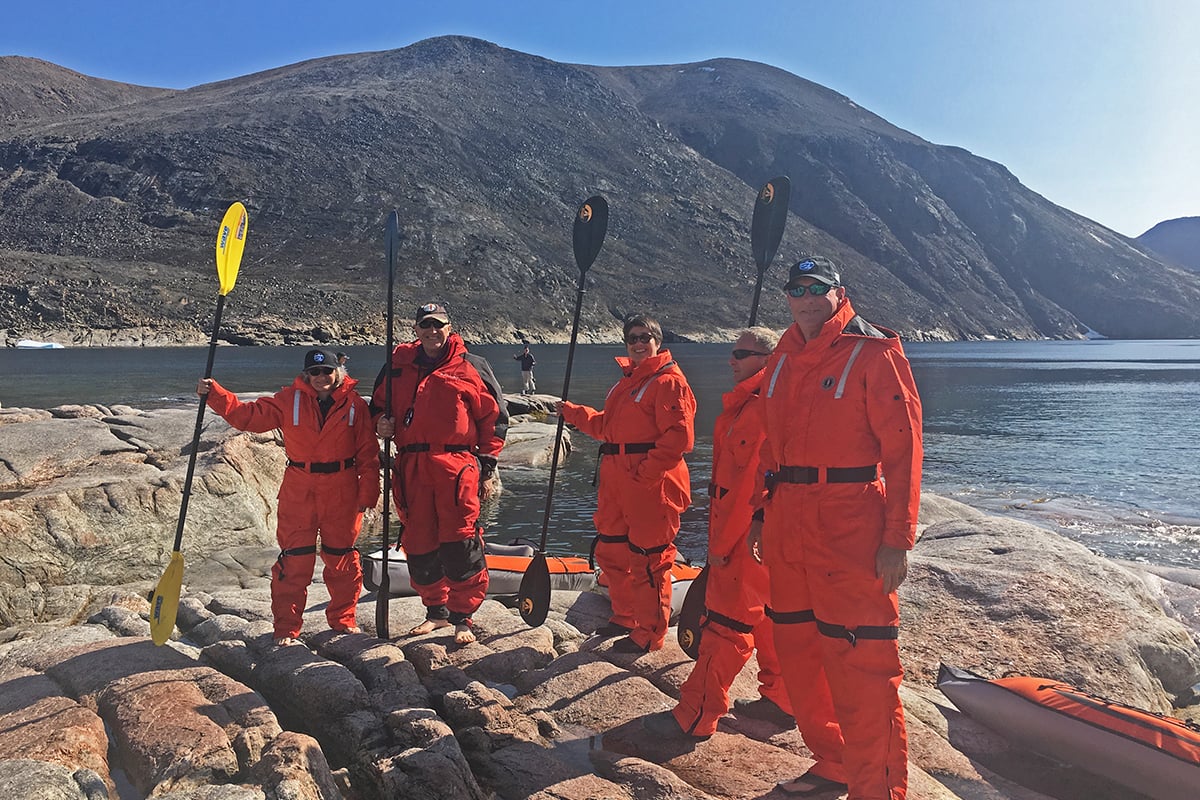 RELEVANT READING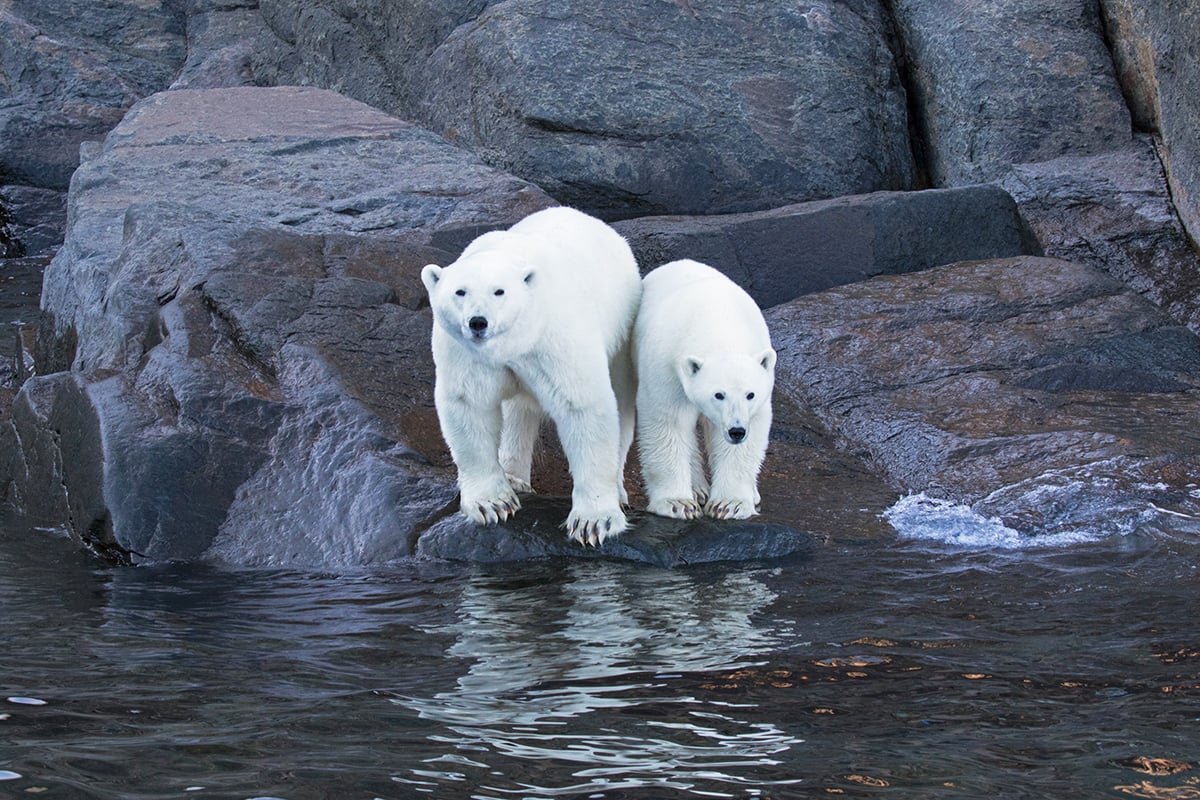 To help you prepare for your adventure and learn more about the wildlife and regions you will be visitng, we suggest the following reading materials:
"A Naturalist's Guide to the Arctic", E.C. Pielou
"Polar Bears: Natural History of Threatened Species", Ian Sterling
"Polar Bears: A Complete Guide to their Biology and Behaviour", Derocher & Lynch
"The Arctic Circle & North Pole: What Defnes Them", Mat Whitelaw,
htps://arctckingdom.com/the-arctc-circle-north-pole-what-defnes-them/
"3 Personal Touches That Make Arctic Kingdom Trips Special", Mat Whitelaw,
htps://arctckingdom.com/3-personal-touches-that-make-arctc-kingdom-trips-special/
"8 Tips for Arcitc Wildlife Photography", Arctc Kingdom,
htps://arctckingdom.com/8-tps-arctc-wildlife-photography/
"Arctc Wildlife Behaviour: Photographing Wild Personalites", Mat Whitelaw,
htps://arctckingdom.com/arctc-wildlife-behaviour-photographing-wild-personalities/
CAMERA GEAR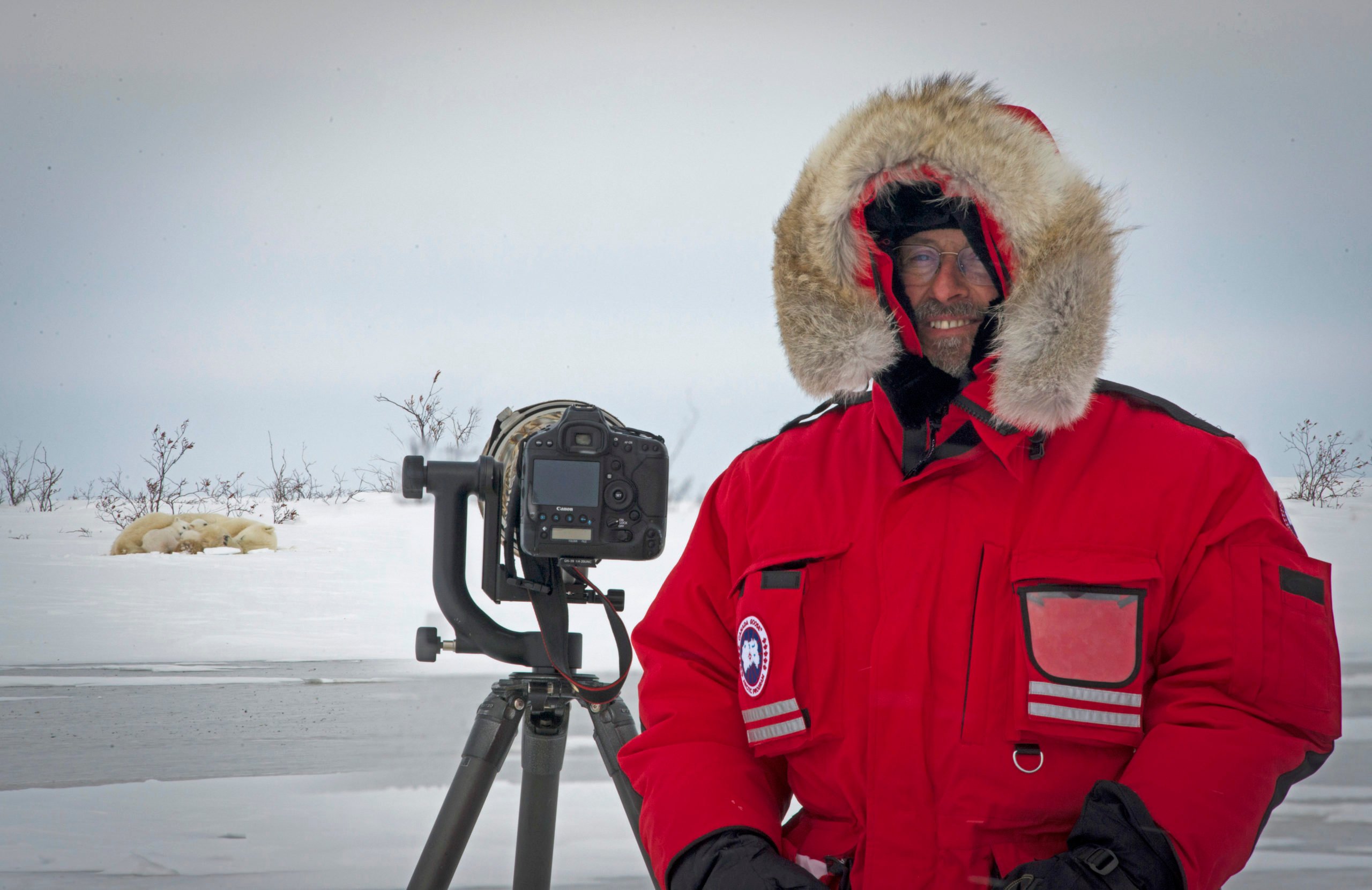 The gear you bring on an Arctic Safari depends on you! Remember, wildlife will generally be 100m away or more. For serious photographers, with the variety of wildlife and scenery available to shoot, it's a good idea to bring a telephoto lens (minimum of 300mm), a mid-range zoom (70-200mm), a teleconverter (1.4x or 2x), and a wide-angle lens (24mm or less). If you do not own a lens that fits these suggestions, renting a lens from a photography store is an economical option. Other guests have success with point-and-shoot cameras. Many photographers also find bringing a full-sized tripod or monopod beneficial.
The weather in the Arctic can be unpredictable. Depending on the season, we recommend bringing snow or rain covers and heavy-duty plastic bags to wrap your gear in the case of extreme weather. With spectacular sights at every turn, you will find yourself snapping more shots than usual. We'd hate for you to miss out on a great shot because your battery ran out! Don't forget to pack extra memory cards, batteries and chargers.
Due to the northern conditons, your cameras will face, we suggest taking partcular care when you bring your camera in from the cold temperatures of the outdoors into the warm temperatures of the tent or vehicles. Before bringing your camera inside or outside, please consider:
-- Puting your camera into a heavy-duty plastic bag before coming inside will reduce the condensation affecting your camera, leaving the moisture to form on the outside of the plastic bag. It helps if you put a small rag inside the plastic bag to absorb any moisture.
-- When you come inside, be careful not to switch your lenses right away because the inside of the camera will be exposed to any moisture and temperature shifs.
-- Be careful going outside again soon afer coming inside, for example, going back out to photograph the Northern Lights. That temperature shift can be harmful, going from the outside to the inside, and back to the outside again.
IMPORTANT NOTES
High-performance professional cameras are generally built fully sealed, meaning they are protected from harmful conditions. You should not assume it is built fully sealed unless you know for sure. We always suggest taking thorough care of your gear.